Almost Quarter Time
March 31, 2016
April is a blink away.
I can't shake this sense that things aren't happening fast enough. The time is passing very fast, perhaps that's where all the speed is.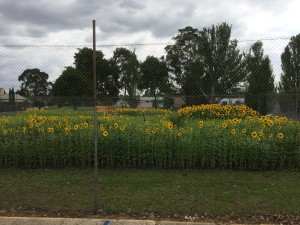 I put a photo of our #getsunflowered project on my Facebook page last night. When the sunflowers were there, I was so focussed on getting the courtyard finished, I didn't stop and smell the sunflowers nearly enough. I'm glad I took photos.
A learning experience.
See those tall sunflowers in the photo – that is the patch where we had the compost from the last crop. Photographic evidence – composting works. They grew faster, taller and there were more flowers in that patch.